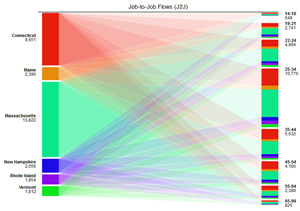 J2J Explorer
Job-to-Job Flows Explorer is a web-based analysis tool that enables comprehensive access to an innovative new set of statistics on worker reallocation in the United States. Workers often build their careers through job-hopping and these flows between jobs are a primary means by which workers move up their career ladders. Flows of workers across employers, industries, and labor markets are subsequently quite large - about half of hires and separations in 2000 were job-to-job flows. Yet until now, they also represented a gap in the set of available statistics on employment dynamics.
Job-to-Job Flows (J2J) statistics illuminate this enormous churn of workers between firms. Using longitudinal administrative data on workers' job histories, J2J traces worker earnings and movements through industries, geographic labor markets, and to/from employment.
J2J Explorer unlocks these statistics through an intuitive dashboard interface. The application's interactive visualizations allow for the construction of tables and charts to compare, aggregate, and analyze earnings and flows by worker and firm characteristics. Potential analyses include identifying what industries are hiring manufacturing workers, what metro areas have the highest rate of worker separations leading to persistent nonemployment, comparing earnings after job flows to earnings for job stayers, and a time series analysis on the impacts of educational attainment on hires to North Dakota.
Learn more about J2J Explorer
(270 KB)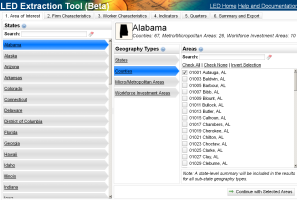 LED Extraction Tool
The LED Extraction Tool provides easy access to the raw data products produced through the Local Employment Dynamics (LED) Partnership. The Beta release of this tool makes the entire Quarterly Workforce Indicators (QWI) dataset available through a simple query-building interface.
The LED Extraction Tool provides:
Access to all 32 QWIs, all available years/quarters, all firm and worker characteristics, the Beta release of National QWI, and 50 states (plus the District of Columbia).
A streamlined interface that walks users through the process of selecting the data they need and ignoring the data they don't. Grab only a single tabulation, all the data for a particular cluster of industries or geographies, or a state's full longitudinal set of data using the intuitive query-building interface.
Fast processing of the requested data tables, which are available for download as CSV and/or ZIP files (complete with metadata).
Learn more about the LED Extraction Tool
(279 KB)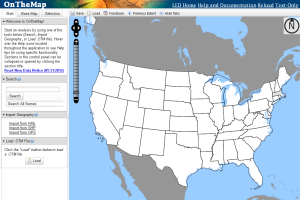 OnTheMap
OnTheMap is an online mapping and reporting application showing where workers are employed and where they live with companion reports on worker characteristics and optional filtering by age, earnings, or industry groups. The interactive map viewer displays workplace and residential distributions by user-defined geographies at census block level detail. This flexibility allows for a variety of use cases, including emergency planning, transportation planning, site location, and economic development. OnTheMap also provides an easy-to-use interface for viewing, printing and downloading the workforce related maps, profiles, and underlying data.
Based on the LEHD Origin Destination Employment Statistics (LODES) data product, OnTheMap is a unique resource for mapping the travel patterns of workers and identifying small-area workforce characteristics.
Learn more about OnTheMap
(229 KB)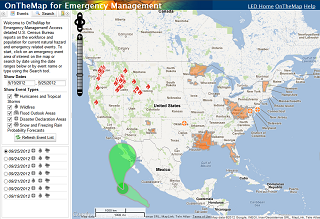 OnTheMap for Emergency Management
OnTheMap for Emergency Management is a public data tool that provides an intuitive web-based interface for accessing U.S. population and workforce statistics, in real time, for areas being affected by natural disasters.
The tool allows users to easily retrieve reports containing detailed workforce, population, and housing characteristics for hurricanes, floods, wildfires, winter storms, and federal disaster declaration areas.
Learn more about OnTheMap for Emergency Management
(265 KB)
PSEO Explorer
PSEO Explorer is a light-weight visualization tool that enables access to an innovative new set of statistics on employment outcomes of graduates of select post-secondary institutions in the United States. Economic considerations drive a number of college decisions - whether to attend college, where to attend, and what major to select. Given the resources required to attend college, students want to know whether programs are likely to have a sufficient return to justify their expense. Prospective students would also like to know what labor markets recent graduates are working in and whether or not they are employed in an industry appropriate for their training.
Post-Secondary Employment Outcomes (PSEO) are experimental tabulations that illuminate employment and earnings outcomes for college and university graduates. By matching university transcript data with a national database of jobs, PSEO traces graduate movements from post-secondary institution, degree level, and degree major to employment, by industry and geographic labor markets.
PSEO Explorer's interactive visualizations provide easy access to these valuable statistics. Users can compare earnings data for different degree types by institution and years postgrad using grouped bar charts. Users can also use Sankey diagrams to explore employment flows from institutions/degrees to the industries and geographies where graduates are employed. Potential analyses include identifying what majors have the highest earnings growth between 1 and 10 years postgrad, what institutions have the highest rate of in-state graduate retention, and comparing industry dispersion of graduates and industry shifts over time.
Learn more about PSEO Explorer
(212 KB)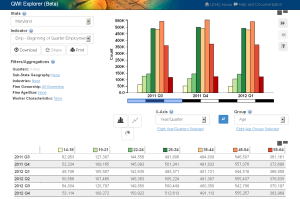 QWI Explorer
QWI Explorer is a new, web-based analysis tool that enables comprehensive access to the full depth and breadth of the Quarterly Workforce Indicators (QWI) dataset. Through charts, maps and interactive tables, users can compare, rank and aggregate QWIs across time, geography, and/or firm and worker characteristics on the fly.
QWI Explorer makes the entire QWI dataset available for visualization in line charts, bar charts, and thematic maps. The application's intuitive dashboard allows for the construction of pivot tables to compare and rank labor-force indicators such as employment, job creation and destruction, wages, and hires across a wide range of firm and worker characteristics. Potential analyses include a longitudinal look at wages by worker sex and age across counties, ranking job creation rates of young firms across NAICS industry groups, and comparing hiring levels by worker race and education levels across a selection of Metropolitan Areas.
Learn more about QWI Explorer
(382 KB)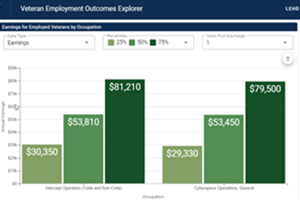 VEO Explorer
VEO Explorer is an interactive data tool that allows for comparisons of veterans outcomes via an easy-to-use line and bar chart interface. These visualizations highlight the broad distribution of labor market outcomes for recent veterans, highlighting the role of industry, military occupation and rank in determining post-military earnings. Users can compare earnings data for different military specializations by industry or paygrade using grouped bar charts. Users can also explore line charts showing earnings data over time by years of service, AFQT scores, demographic characteristics, or industry.
Veteran Employment Outcomes (VEO) are experimental statistics on Army veterans' labor market outcomes one, five, and 10 years after discharge, by military occupation, rank, demographics (age, sex, race, ethnicity, education), industry and geography of employment. These statistics are generated by linking veteran records provided by the U.S. Army to national administrative data on jobs at the U.S. Census Bureau. Coverage of the data is all enlisted soldiers in the Army who completed their initial term of service and were discharged between 2000 and 2015 (about 650,000 veterans)
Learn more about VEO Explorer
(291 KB)